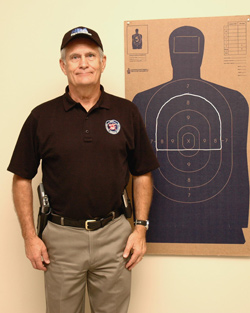 Tom's Instructor Credentials:
NRA Training Counselor
NRA Chief Range Safety Officer
NRA Certified Pistol, Rifle, & Shotgun Instructor
NRA Certified Personal Protection In The Home Instructor
NRA Certified Personal Protection Outside The Home Instructor
Texas License to Carry Instructor
Defensive Pistol, Rifle, & Shotgun Instructor
 3 Gun Competition Instructor
Tom Dowdy, Owner
Tom Dowdy, owner of Handgun Skills, LLC, is a decorated war veteran and was an expert marksman in the US Army.  He is a Life Member of the National Rifle Association, a NRA Training Counselor, and a Front Sight Lifetime Guardian Member where he completed defensive shooting training in multiple years.  He has had extensive training through NRA instructor courses, Combat Focus Shooting with pistol and carbine through I.C.E Training (Rob Pincus), the military, and many years experience with guns starting at age 9.  While Tom is an independent instructor, he is also the designated NRA instructor at Thunder Gun Range, 17234 FM 1314, Conroe, TX 77302 and is the Match Director for 3 Gun Matches and Defensive Pistol Matches.  As a NRA Training Counselor Tom trains and certifies other shooters as NRA Instructors.
Tom has a patient but focused teaching style that allows students to learn in a relaxed atmosphere aimed at a high retention of the material taught.  Teaching methods include use of total participant involvement, multiple training aids that allow better absorption of material, and through use of positive feedback to assess students learning speed.  Handgun Skills, LLC goal is to enable students to improve and hone their shooting skills through gaining the knowledge, skills, and proper attitude to achieve their shooting goals, whether it be basic fundamental instruction or advanced instruction in pistol, rifle, or shotgun.