Ladies Beginner Pistol Class – $60.00
Learn the operation of either a revolver or semi-automatic pistol, rules of gun safety, proper fit of pistol, gripping pistol, shooting stances, fundamentals of shooting, and live fire practice of basic shooting fundamentals.
Rules of Gun Safety

Operation of revolver
Operation of semi-Automatic
Proper fit of a pistol
Selecting the right pistol
Gripping & support hand
Shooting Stances
Practice handling unloaded gun

Five fundamentals of accurate shooting

Live firing exercises & skill levels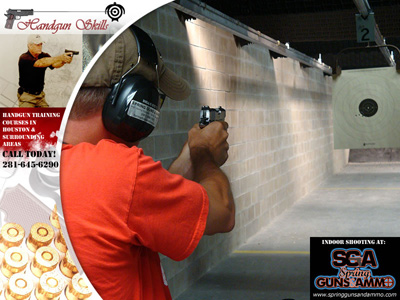 COURSE DATES
TBD – 10:00am – 12:30pm

Learn how to safely operate either a revolver or a semi-automatic pistol. This is a two to two and a half hour introduction into pistol shooting.  Students can decide from this class if they like shooting and want to follow-up this class with the one day NRA Basics to Pistol Shooting to learn about all center fire and rim fire pistols, ammunition, care and maintenance, proper storage, and other training opportunities. The class is based on the concept of observing and listening to a demonstration of each step, practicing the fundamental without a gun, practicing it with an unloaded gun, practicing through live firing exercises, and making adjustments needed to correct errors.
Students can bring a revolver or semi-automatic pistol between .22LR caliber and 9mm caliber. Calibers above 9mm are not advised for beginners. If you don't already own a pistol take the class first so you don't risk wasting your money on buying the wrong pistol. Rental guns will be available for a rental fee of $15 to $25. You will need 100 rounds of ammunition for the class and it can be purchased at the range or bring your own factory loaded full metal jacket ammunition. You also need ear plugs or over the ear protection, eye protection can be prescription glasses of safety glasses, and both can be purchased inexpensively at the range. This is not a NRA certified class.
Registration
You must register at least 2 days in advance of class.  If less than four people pre-register the class will be cancelled and deposits refunded.  Last minute registrations taken if four people have pre-registered.
You may call 281-645-6290 to register and pay if you do not want to submit an online registration.  Be sure to supply telephone number where you can be contacted during the day if you leave a message.
Please click here to review our registration policies and details (popup).
Looking for a Basic Pistol Shooting Class in The Woodlands, Conroe, Spring, Montgomery, Tomball, or greater Houston area? We're glad you found us! Give Handgun Skills a call today 281-645-6290.