This is the NRA class that teaches students to operate and shoot any rim fire or center fire pistol, ammunition knowledge, selecting the right pistol to purchase, care and maintenance, and proper storage.
NRA Basics of Pistol Shooting – $130.00
Learn to operate all revolvers and semi-automatics, gun safety training, ammunition training, fundamentals of shooting, storage practices, and practical shooting drills.
Rules of gun safety
Revolvers & semi-autos
Selecting ammunition
Selecting the right pistol
Shooting positions
Fundamentals of accuracy
Live firing practice
Making adjustments
Supported shooting
Unsupported shooting
Shooting qualifications level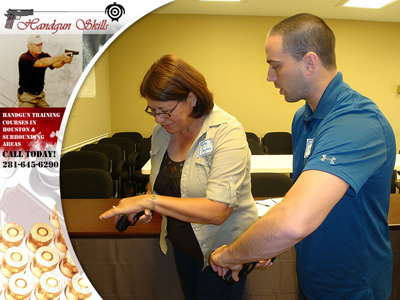 CLASS DATES
May 13th -9:00am – 6:00pm
Jun 10th – 9:00am – 6:00pm
Jul 8th – 9:00am – 6:00pm
Aug 12th 9:00am – 6:00pm
If you have taken the NRA Basics of Pistol Shooting – Phase I online through NRA you have the optioning of joining the class at 1:00PM and you will pay $100.  You can shoot any caliber pistol between .22LR and a .45Auto. Rental guns will be available and you will shoot approximately 100 rounds in shooting exercises. Ammunition can be purchased at the range or you can bring factory loaded ammunition for your pistol. This is the same class taught nationwide as a NRA certified training class and students are awarded a NRA Certificate for successfully completing the class.
Registration
You must register at least 7 days in advance of class.  If less than four people pre-register the class will be cancelled and deposits refunded.  Last minute registrations taken if four people have pre-registered.
You may call 281-645-6290 to register or if you submit an online registration we will call you to obtain a 50% deposit. Be sure to supply telephone number where you can be contacted during the day.
Please click here to review our registration policies and details (popup).
Looking for a  firearm training course in The Woodlands, Conroe, Spring, Montgomery, Tomball, or greater Houston area? We're glad you found us! Give Handgun Skills a call today 281-645-6290.