Basic Pistol Fundamentals – $60
This 2 hour class will teach you rules of gun safety, how to operate a revolver or semi-automatic pistol, shooting positions, fundamentals of accurate shooting, proper maintenance, and clearing malfunctions. Students will learn how to safely operate a pistol at closer ranges and participate in fundamentals practice shooting.
Rules of gun safety

Operation of revolver or semi-automatic

Shooting positions

Recognizing and clearing malfunctions

Unloaded gun practice

Loaded gun practice

Grouping shots

Making Adjustments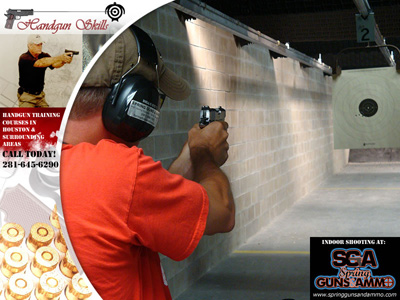 COURSE DATES
Dec 2nd– 2:30pm – 4:30pm
Jan 6th – 2:30pm – 4:30pm
Feb 3rd – 2:30pm – 4:30pm

Students need a pistol of .22LR caliber or greater and 100 rounds of brass cased target ammunition (no steel core ammunition); minimum of one magazine, ear protection & eye protection. It is highly recommended that beginners shoot a pistol of no more than 9mm caliber. Limited loaner ear and eye protection will be available. Pistols can be rented for $15 to $25. This is the same class we offer that can be combined with our License to Carry Class in a one day class. This is not a NRA certified class.
Registration
You must register at least 2 days in advance of class.  If less than four people pre-register the class will be cancelled and deposits refunded.  Last minute registrations taken if four people have pre-registered.
You may call 281-645-6290 to register and pay if you do not want to submit an online registration.  Be sure to supply telephone number you can be contacted during the day if  you leave a message.
Please click here to review our registration policies and details (popup).
Looking for a Basic Pistol Fundamentals Course in The Woodlands, Conroe, Spring, Montgomery, Tomball, or greater Houston area? We're glad you found us! Give Handgun Skills a call today 281-645-6290.