Beginner Pistol Instruction – $80.00
Instruction on operating one pistol, safety training, and fundamentals of shooting.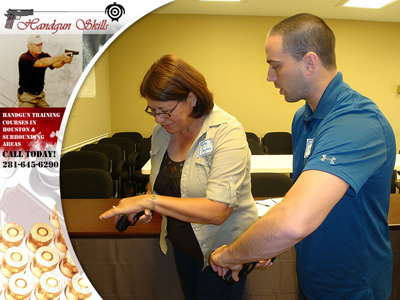 This class is designed to provide a hands-on introduction to the safe handling and proper operation of a semi-automatic pistol or revolver.  You will learn the rules for safe gun handling, handgun operation, shooting stances, shooting fundamentals,  &  opportunities for further skill development.
This is a good class to learn the basics of operating a  pistol and the basic shooting fundamentals.  If you want to learn more than just the basic fundamentals the NRA Basic Pistol Shooting Course is the better course to take.  This is not a NRA certified course.
This class is 2 to 2.5 hours long.  Students can bring a pistol or they can rent a pistol for $10.  Cost of $80 does not include range fee or ammunition cost. You can also coordinate an individual training session on a date that works for you (other than a Sunday) or you can pair up with another person for a combined 3 hours of private instruction for $120 plus range fees.
COURSE OVERVIEW
Firearm Safety, Learning Your Pistol & Operating It, Shooting Basics
2 to 2.5 Hour Class, Includes Shooting 50 to 100 Rounds in Shooting Drills
Students Can Rent a Handgun
COURSE DATES
December 7th – 9:00am to 12:00pm   12 Slots Available
January 14th – 3:30pm to 6:00pm    6 Slots Available
Registration
You must call at least one week in advance to schedule private instruction.
You may call 281-645-6290 to register or if you submit an online registration requesting private training we will call you to coordinate a date and time. Be sure to supply telephone number where you can be contacted during the day. After registering you can pay the deposit by credit card or mail a deposit check or money order to P.O. Box 131625, The Woodlands, TX 77393-1625.
Please click here to review our registration policies and details (popup).

Looking for a NRA First Steps Pistol Orientation or firearm training course in The Woodlands, Conroe, Spring, Montgomery, Tomball, or greater Houston surrounding areas? We're glad you found us! Give Handgun Skills a call today
281-645-6290

.